John Cooper, A Pretty Good Run
Posted by Diane Rice on 06/16/2020
John Cooper has mastered the art of the understatement as well as the art of training great racehorses. Asked to name his biggest success, he concludes simply, "Horses. I've had a good run."
"He's not one to toot his own horn,"
says his wife, Carol. But during the course of his 50-plus-year training career, he has fit five AQHA Champions: Chingaderos, Moonist, Mr Doty Bars, Separatist and Sign Of Lanty. He also conditioned World Champion Tiny's Gay through his first three wins during a career in which the stallion was unbeaten until a second-place finish in his 13th and final race: the 1974 All American Futurity.
The Cooper roster also includes Uncle Wes, whom Carol calls one of the best 870 horses on the grounds in 1970 and 1971, and Aladuino, earner of nearly half a million dollars back in the 1980s.
THEIR EARLY YEARS
John grew up one of four children, the son of Clarence "Slick" and Leone Cooper in Pocatello, Idaho, where Slick had a little sand and gravel hauling business. "Those were the days when you had to shovel it on by hand!" Carol says.
Carol also grew up in Pocatello, the daughter of Robert and Sarah Scott. Robert wrestled steers and brought the first Quarter Horse to the state of Idaho: Coon Dog II, who bucked Carol off and broke her arm. "We always had a good horse to ride," Carol says. "I broke a lot of bones, but I never quit loving them."
John also loved horses. "When I met John, he had a palomino gelding and when his father sold him, it broke his heart." Carol says.
Carol first saw John when she was in junior high. "He had the lead role in an operetta and we'd also see each other at the roller staking rink, but I didn't meet him until he was a freshman in high school and I was in eighth grade," she says. "We both had a horse, so that was that. We went horseback riding and we both liked to dance. We've been together since 1953."
They married in 1956 and had two children, a daughter, Michele, who sells real estate with Carol, and a son, Scott, a long-haul trucker who passed away in 2004.
When they'd been married a year or so, they got a gray gelding, then a mare, and Carol's dad taught John how to rope. Carol ran barrels and showed in halter. In 1960 they bought a horse named Cutback, whom John began showing in performance, roping calves. Cutback was followed by Reed's Honey, a mare who earned several halter grand championships under Carol's hand. "In fact, we met Jay and Polly Parsons at a horse show in Big Piney, Wyoming," Carol says. "They were showing a mare named Wayward Cindy and she was grand champion, and our mare was reserve champion."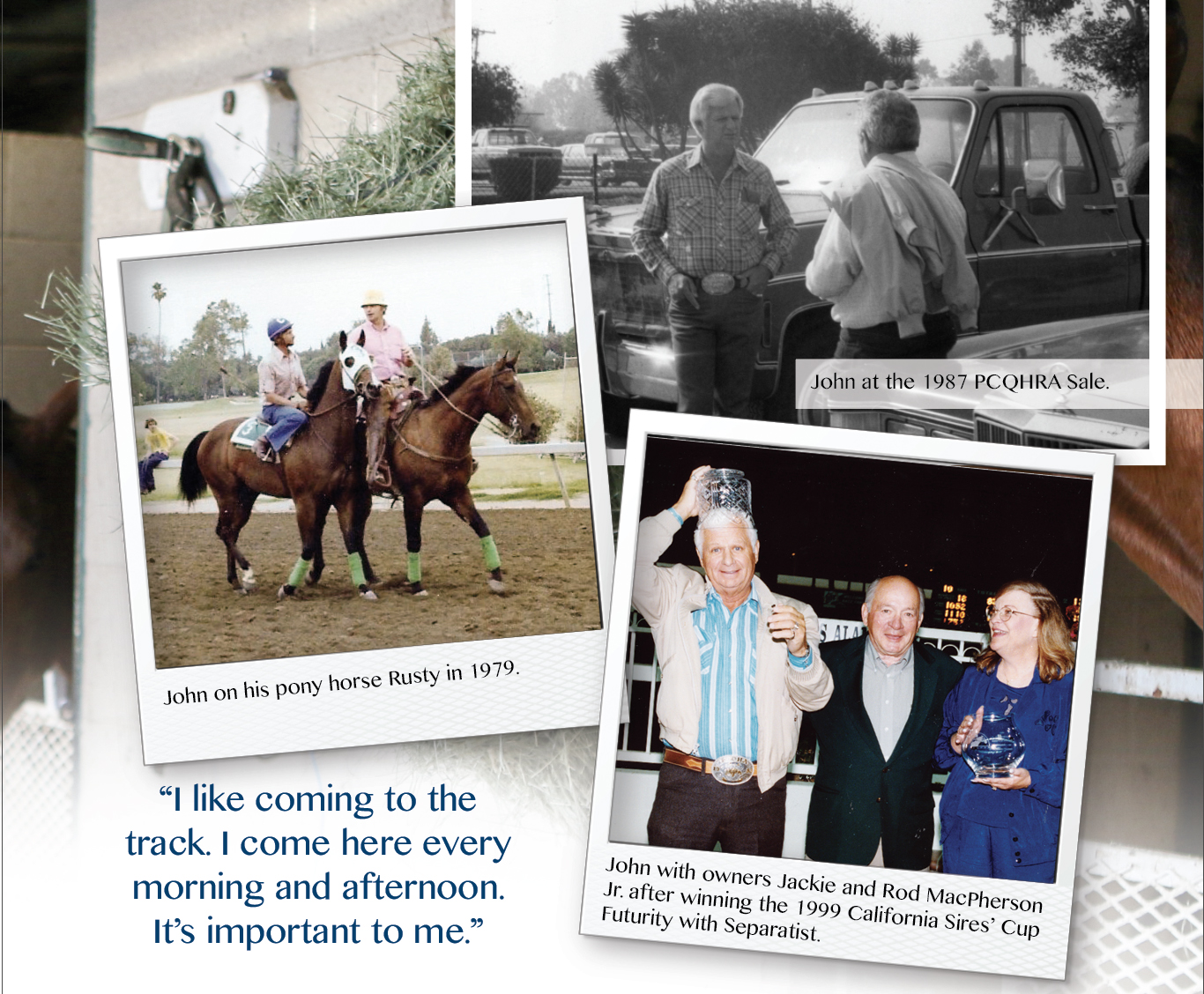 A GENTLE SHOVE
John was driving heavy equipment at the time, but was always looking for something to do during the winter when that slowed down. He was roping, but decided he'd like to go watch the chariot races.
"I decided I had to do that," he says. He got a pair of mares, ran the chariots and really enjoyed it — so much so that he won his division at the World Championship Chariot Races.
Around that time, he started breaking Thoroughbred colts for a man named Joe Davis, who told John that his sister, a trainer in Phoenix, Arizona, loved the way the colts came back. Joe suggested that John start training racehorses. That sparked John's interest and he got his first official win in 1966 with Eddie Rain (Eddie Atkin-Vivandier, Dangerous Brown Dan) at Pocatello Downs. "I decided I liked that best; I didn't have to ask for another man's opinion," he says. "I've been doing it ever since."
Meanwhile, Carol noticed that their mare, Reed's Honey, had some speed. "We got her about half fit, and she won her first race by about 10 lengths," Carol says. "We just went from there. We decided to go to Denver around 1967."
"I'd won quite a few races around home," John says. "That fall I had three nice horses and so I took my vacation, and Carol and I went down there and did really well. So the next year, we went back and did a little better."
In 1970, they had a couple of pretty good geldings, so John asked his friend Blane Schvaneveldt if he'd take them to California and run them. Blane asked why he didn't take them himself.
"John didn't think he was good enough," Carol says, "but Blane said, 'Son, you're not going to get good enough in Pocatello, Idaho. It only costs 10 percent to go first class.'"
Blane talked John into going to California, where John worked for him at Bay Meadows for an entire meet. "We raced on the fairs in 1970, and came down here, and we've been here ever since," Carol says.
ALL IN
When they decided to head for the Sunshine State, Carol's father — John's foreman at his mining company job — half kidded that they were going to end up sleeping in a tent alongside the road and driving an old pickup truck.
But John had a plan. In addition to his heavy equipment driving, he also laid carpet so he thought he'd take his tools along as a fall-back.
"When I told Carol, she said, 'John, I want you to sell those tools.' I said, 'I've got to make a living.' But she said, 'That's it. Either you're going to go down and make a living or you're not, but get rid of those tools so you don't have anything to fall back on.' So that was that."
"We made up our mind that's what we were going to have to do, and the first two years, we slept in the tack room," Carol says. "The kids went home during school season and stayed with my parents, and we had them in the summer. Then in 1972, we were able to buy a little condo, and then we bought a house. Then I got involved in real estate. A training client advised us to buy real estate and he steered us right. Every nickel I made, I sunk into real estate and it's been about as good to us as the horses have."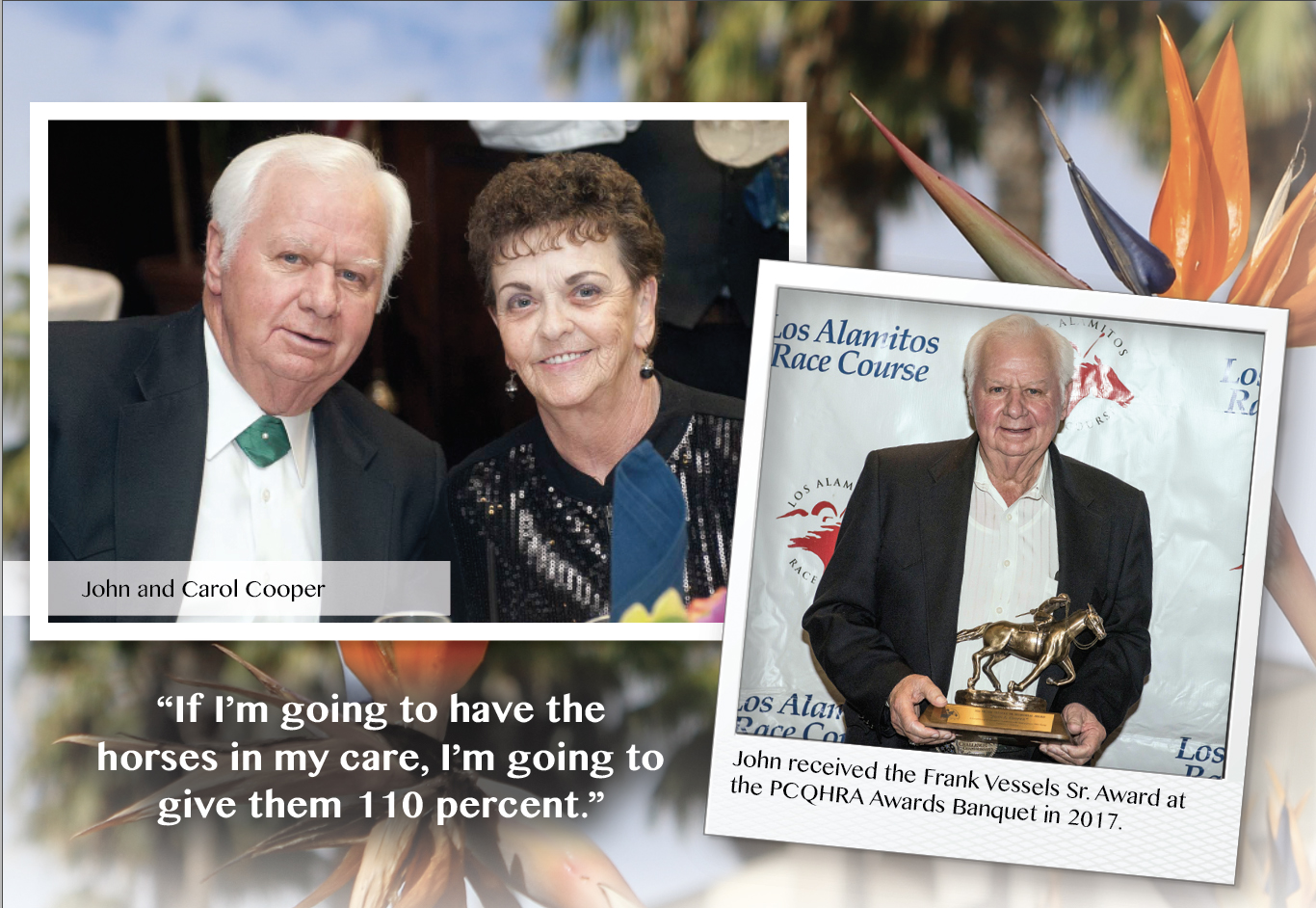 WHAT GOES AROUND COMES AROUND
Just as Blane Schvaneveldt had mentored John, John paid it forward. "Had I never gotten involved with Coop, there would never have been a Firth Ranch," says John Firth, who starts colts and provides layups for John's clients' horses at his breeding, foaling, breaking and sale prepping operation in Hemet, California. "I didn't know him until Carol called me to be their shoer about 25 years ago.
"I was his shoer at his farm for years and years, and I always had a lot of interest in racing," Firth explains. "He told me I should get a racehorse, but I told him I couldn't afford it. He said as good a hand as I was, I could get them broke at home."
So the first few years Firth ran horses, he trained them himself at home, hauled them in for their works and let John run them for him. As time went on and he got better horses, he began leaving them at the track and before it was over, he says, "I'd built Firth Ranch and for the past 15 years I've handled and broken some of the best horses with Cooper and Ronnie Hartley."
But it wasn't all roses. Firth recalls the times John would come home from the track once a week for about a day and a half. "He'd read us all the riot act because he was going over everything that wasn't getting done. I hated to be there on Monday when I knew he was going to be there because I knew he was going to be cranky. He'd get after everybody, me included.
"As we got down the path and there I was handling all his best horses, I'd give him a little heck and tell him, 'Remember when you used to be so mean to me?' And he'd say, 'Aww, I wasn't like that,' and I'd say, 'Oh yes, you were.' But all that stuff is in fun; it helped mold me into what I am today. I've had some of the greatest racehorses to step on the track come through here, including Moonist."
WHAT KEEPS HIM GOING
At 81, John says he quits every fall, "But then, I go look at the babies and I think, 'Maybe there's one more.' I love watching the babies come around and grow up to be nice horses; I guess that's what I keep getting tickled about.
"I like what I do and I get paid for it," John adds. "I've done about everything I've ever wanted to do and I like to just stay around. I like coming to the track. I come here every morning and afternoon. It's important to me."
When he's not at the track, you're likely to find John sitting at his puzzle table working on a jigsaw and watching black and white westerns. He and Carol are also very involved with their church, and in addition to his talent with horses, he's known to have a beautiful voice. "He doesn't sing as much as he used to," says Carol, "but I used to know what kind of a morning he had by what he was singing and how he sang."
But the horses are still where his heart lies. These days he trains for just three clients: C.K. and Laurel Allen, who have multiple graded stakes placed mare Strawfinders Jessee with him; Green Valley Training Stables, who send a horse each year; and Jerry and Marta Loveland in Idaho, who also usually send a horse each year.
"And then John allows me to have a horse to race," Carol says. "This year I have a 2 year old that I bought from Rod MacPherson's estate. I named him after Rod: Macs Tac."
"If I'm going to have the horses in my care, I'm going to give them 110 percent," John says. And that 110 percent has brought him a pretty good run.