Erin Gallegos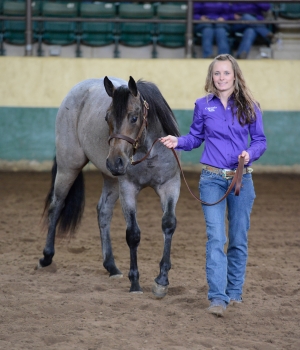 Erin Gallegos
Copywriter 2016 - Present
Phone (Work):
105-288-2145
Erin grew up in the small mountain town of Kremmling, Colorado, riding barrel horses, competing at rodeos, and starting colts. She attended Rogers State University in Claremore, Oklahoma, studying Computer Science. She then returned to Colorado to study at Colorado State University, where she received a Bachelor's Degree in Equine Sciences.
She purchased the colt she trained in the CSU Training Class, Beansmuddywhiskey, from the CSU Legends of Ranching Sale. Since then, Erin and her husband have transitioned over to starting, showing, and raising working cow horses. During her time at CSU, she worked for the CSU Orthopaedic Research Center and enjoyed hands on experience learning about common equine lameness and rehabilitation of performance and race horses.
After graduating, Erin and her husband moved to Oklahoma in 2015 to be in the heart of the equine industry and to start a family. She worked as a veterinary technician for a year prior to joining Speedhorse as a research analyst and ad copy writer. She has always remained passionate about the Quarter Horse racing industry and bloodlines, giving her a valuable perspective for her position here at Speedhorse.